Yes, winter is long, and cold, but I decided we might as well do something fun with it!
We started the night of our huge snowfall (about 2 feet) by going outside for our
nature walk
. We explored how snow made for different sights and sounds in our backyard.
I read some books aloud to all of the kids. For the older two, this was a review as we covered weather in great detail last year. For the younger two, this was an introduction to how snow works.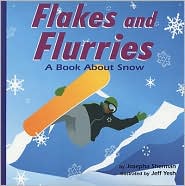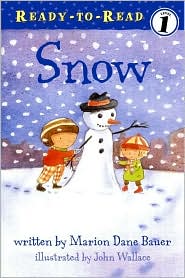 Snow by Marion Dane Bauer
(who has written some wonderful books for teens) is a simple introduction to the hows of snow. It is also a easy reader.
My children adored
Animals in the Snow by Margaret Wise Brown
. It seems to be out of print, which is sad. We got this (and all of our books) from the library. This is a repetitive, but not tedious, story of animals and children playing out in the snow. At the end of the story, the animals lead the children into the woods and they find a budding flower. Spring has come!
Blizzard! by Carole Gerber
explains what is happening to the world outside during a blizzard, all while a boy and his cat are snuggled warmly inside. This book had gorgeous artwork, especially of the quiet, snowy world when the blizzard had ended.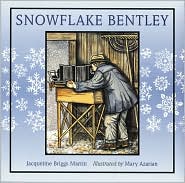 Finally, we finished up with
Snowflake Bentley by Jacqueline Briggs Martin
. This book offered us the chance to talk about a number of things. First, I pointed out the
Caldecott award
on the front cover. We discussed that it goes to the illustrator for best picture book art for the year. I also pointed out that it was a biography, and the kids mentioned some other biographies we have read in the past. Scrappy and Funny were quite interested to know how Bentley did his work, and were fascinated that until he came along, no one really knew anything about snow! Scrappy has requested
Bentley
's book,
Snow Crystals
, from the library, so that he can look at more snowflakes. The kids also took an
online comprehension quiz
, in the style of
Who Wants to Be a Millionaire
. Finally, all of the kids took a stab at drawing their own snowflakes. The older two had to draw a flake with 6 sides, and identify the type of snowflake, while the younger two just played around with chalk on construction paper.